POT LUCK DINNER:
HOT OFF THE GRILL
BURGERS AND HOT DOGS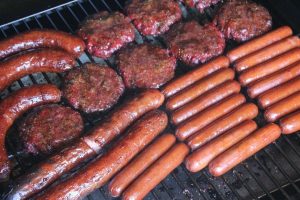 SATURDAY, APRIL 1, 5:00 PM till 8:00 PM
Watch Jeremy Snook's year end message and the new promotional video for The Friendship Force. SURPRISES AND FUN ARE ON THE AGENDA!
LOCATION: BONNIE EVANS, 1954 MUSKET COURT, STONE MOUNTAIN, GA 30087
RSVP: LINDA FOLEY AT 770.493.6784 or email lfoley2002@yahoo.com Tell her what you are bringing.
SUGGESTED ITEMS THAT ARE NEEDED (TELL LINDA FOLEY)
Hamburger and Hot Dog Buns
Potato Salad
Macaroni Salad
Cole Slaw
Corn on the Cob
Baked Beans
Mac N Cheese
Deviled Eggs
Potato Chips
Dips
Sliced ripe tomatoes and onions
Chopped Onions
Ketchup, Mustard, Mayo, Relish, Pickles
Dessert