Friendship Force of Greater Atlanta NEWS FLASH
Check back here often to see what our club is up to!
⇒ Friendship Force of Greater Atlanta Annual Meeting, Saturday, October 6, 2018, Maggiano's 
Our annual meeting will start at 1 p.m. Saturday, Oct. 6, at Maggiano's restaurant
at Cumberland Mall. We would like to have as many of you there as possible. The
cost will be $30 per person, tax and tip included. Please mark your calendars and
let Cynthia Williams know  if you will be attending. Please return your menu selections and your check to Cynthia by October 3rd.
We will be electing next year's officers, voting on countries of interest for 2020,
and addressing any issues that need discussion.
One final note: the nominating process to elect new officers for next year is underway.
If you are interested in being on the board, please let Barbara Shields
know as soon as possible. We will present the slate on Sunday at dinner and send
out notices on Monday to those who are able to attend.
⇒  Hands-on Workshop: Leveraging Technology to Stay Connected With Friends and Family, Saturday, September 8, 2018 12 noon – 2 p.m.
Technology makes it easy and fun to stay connected with your friends and family both near and far! You are invited to a workshop in which we will cover the basics of using your smart phone, tablet, desktop or laptop to share messages, pictures and even make no-cost international phone calls to stay in touch with friends from around the world. Please bring your device (if possible) as this will be a hands-on workshop.
Saturday, Sept. 8th
Eastminster Presbyterian Church
5801 Hugh Howell Rd, Stone Mountain GA 30087.
Pleaselet Robin Scott (678) 478-5360 ( sronald@comcast.net) or Allison Lindsey (404) 723-6029 (lindseypartyof4@gmail.com) know if you will join us. All levels of technical ability welcome!
⇒ Dinner at Nicola's Restaurant August 12, 5:00 p.m.
Whether you're going on the great expedition to Egypt or not, come join the Friendship Force of Greater Atlanta on
Sunday, August 12
, at Nicola's Restaurant to sample Middle-Eastern (Lebanese) food.  We will have a family-style meal, with a great variety of dishes, all for $20.00, including tax and gratuity.  We last went to Nicola's in 2010, and a good time was had by all.  Desserts are available at $1.00 each for those who still have enough room for them at the end of the meal!  Bar service is also available for purchase.
Please feel free to bring additional guests who may be interested in joining the FFGA.  This type of social event provides an excellent way for new members to be introduced and to meet folks they may be traveling or hosting with on future exchanges.
Date: 
Sunday, August 12, at 5:00 p.m.
Cost:  $20.00 per person.  Please be sure your check, made out to FFGA, is received no late than
Friday, August 10
.  Send your checks to Cynthia Williams,
1923 Claremont Street NW, Atlanta, GA
30318
.  If you have any questions, please call Cynthia at 404-351-5352.
We can't wait to see you there!!!
⇒ Newsletter Editor needed!
Sue Mills is our current Newsletter Editor and is ready to hand over the baton. Any wordsmiths out there who are looking for a way to be involved in our club? Training is available. Contact Robin Scott (770) 446-1733, sronald@comcast.net or Sue Mills (386) 848-
6220, delray316@gmail.com.
⇒ Update: Journey is full with a waiting list! Six spaces remain on our Outbound Journey to Cairo, Egypt, October 17-24, 2018!
View the recent Catalog Posting on FFI's Website. Home hosting in Cairo with optional post homestay tours of Egypt, Israel and Jordan. We are now recruiting globally to fill the remaining 6 spaces. Please contact John Wilhelm (770-921-4333) if you are interested in applying!
⇒ We are hosting an Open World delegation from Ukraine. May 11 – 19, 2018!
Joe and Anne Earle have been busy arranging meetings and discussions centered around the program theme of "Citizen Engagement in Legal Reform Rationale". Cynthia Williams has been arranging for hosts and transportation. If you are available and would like to help with transporting or day hosting, please give Cynthia (404-351-5352) or Anne (404-378-3918) a call.
⇒ JOIN US! Saturday evening, May 12th the plans are to take the group to the Laser Show at Stone Mountain. and we would like everyone to join in for a Fried Chicken Picnic, club treat. Please give Anne Earle a call or send an email if you are planning to come.
⇒ Recruiting for the Journey to Colombia and Ecuador has begun!
Please see our Current Opportunities page for more details or click here to view the booklet Bonnie Evans, the AC, has put together.
⇒ Are you receiving e-mails and updates from FFI?
If not, scroll all the way to the bottom of the FFI home page (www.friendshipforce.org) and sign up.: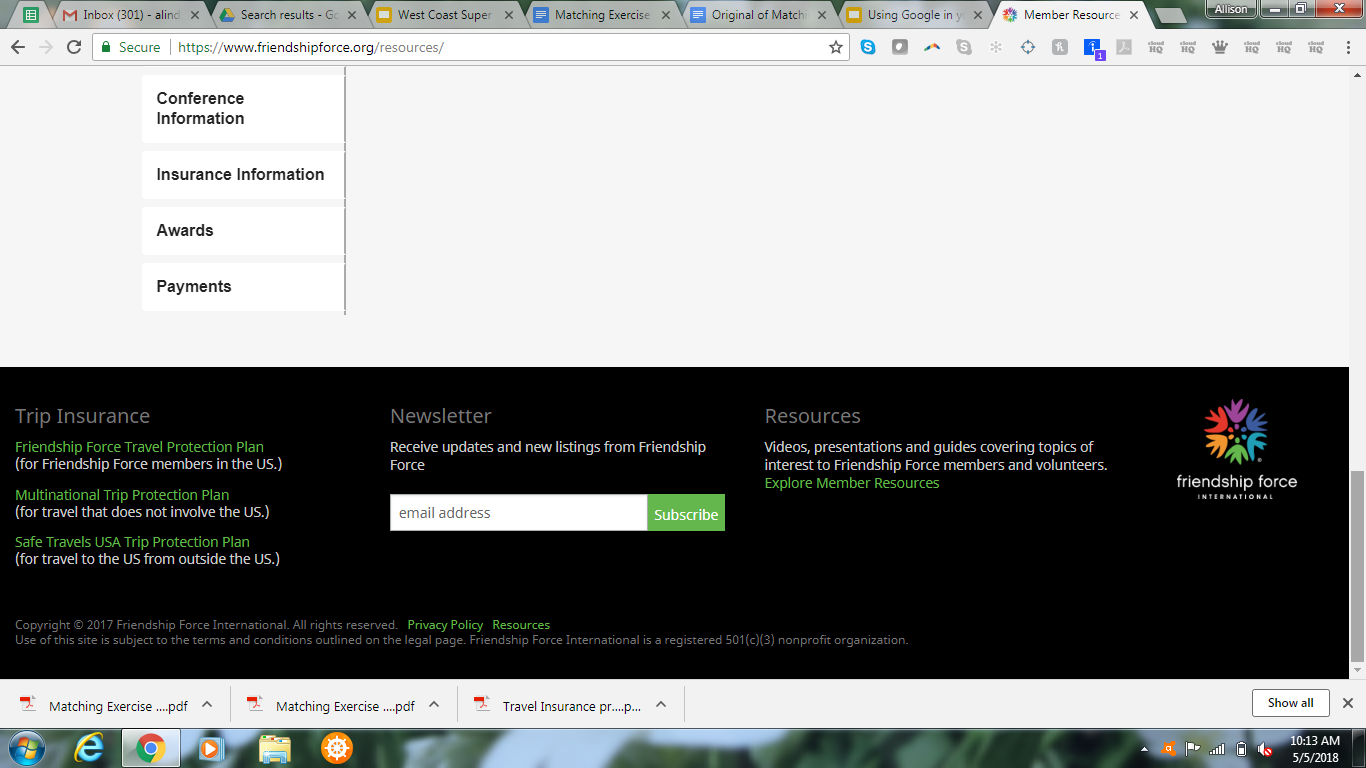 ⇒ Save These Dates!!
October 6TH: Annual Meeting, location TBA
December 8TH: La Petite Violette is reserved for Saturday, December 8, at 12:30 p.m.for our holiday party.
Make sure the check the most current newsletter for more details!
⇒BONNIE EVANS RECEIVES WAYNE SMITH AWARD: CONGRATULATIONS!
The Wayne Smith medal is a tribute to Friendship Force founder Wayne Smith in recognition of his "boundless energy and optimism and untiring commitment to the cause of world friendship", as the nomination form states. In the Friendship Force of Greater Atlanta, we have someone who fits this description perfectly, and that is Bonnie Evans.
In the nine years since she joined our club, Bonnie has served as Treasurer for two years and two years as Webmaster and is now our Vice President. In the last three months alone, she has led an "epic journey" to Tanzania and was the Host Coordinator for the Oregon's Mid-Willamette Valley Journey to Atlanta. Bonnie has traveled to several countries with our club and other clubs and has hosted ambassadors from around the globe. Bonnie's home has always been open for dinners and other club activities.
We would like to thank her sincerely for her continued support of our club and the Friendship Force in general by presenting to her the Wayne Smith medal, of which she is so deserving.
———————————————————————————————–
August 20, 2016
The Friendship Force Greater Atlanta has an Outbound EPIC Exchange to Tanzania, Africa in SEPTEMBER 2017!
The Friendship Force Iringa in Tanzania will be our host for one week. Their club involves itself with humanitarian projects in the areas of education, water and health. Focusing on these needs, which are lacking in some areas, contributes greatly to peace and harmony within the community and in the country at large. Places of interest near Iringa include Ruaha National Park (yes, wildlife), Isimila Old Stone Age Site, Speaking Stone, Kalenga Museum, Udzungwa National Park and Cultural Attractions.
There will be an option as well to extend the trip with a Safari to the world renown Serengeti National Park, Mt Kilimanjaro, the Ngorongoro Crater, Tarangire Manyara to see the BIG FIVE ( Elephants, Lions, Leopards, Cape Buffalo, Rhinos).
Bonnie Evans is hosting a TANZANIA EPIC POTLUCK DINNER. The goal is to get feedback from members of what they would like to happen on this exchange as well as be given information what is known thus far. Friendship Force Members of Greater Atlanta, Big Canoe and Lake Hartwell, who would be seriously interested in joining the 2017 Tanzania EPIC Exchange, are invited.
When: Saturday 8/27, 5:00 pm till 8:00 pm
Where: Bonnie Evans' home at 1954 Musket Court, Stone Mountain, GA 30087.
RSVP by PHONE: 404.771.0010 or email kbemje@bellsouth.net Deadline for RSVP is 8/26.
Bring: a dish to share. Suggested items are vegetable casserole, potato casserole, potato salad, toss salad, fresh cut fruit, chips and dip, deviled eggs, dessert. BYOB. Bonnie will supply the main course.
Thank you,
Bonnie Evans
404.771.0010
---
July 11, 2015
The FFGA annual meeting will be Sunday, October 18 at Mimi's Café. Further details will be published soon.
The nominating committee for FFGA 2016 officers, chaired by Cnythia Williams, will be contacting FFGA members to solicit ideas for next year's leadership team. Please consider becoming a club officer or at least serving on one of the activity committees.
FFGA newsletter editor needed! The FFGA newlsetter editor position remains available to any club member interested in making a significant contribution. For further information, please contact Kent Vickers at kvickga@hotmail.com
Members of the Australia Sunshine Coast Club will be visiting us in April of next year. We need an E